An undersea glider has been launched from an aircraft for the first time, opening up possibilities for ocean research.
Teledyne Marine, in partnership with the US Navy, has reached a milestone by successfully deploying an undersea glider from a helicopter, marking it the first launch of a glider Autonomous Underwater Vehicle (AUV) from an aircraft.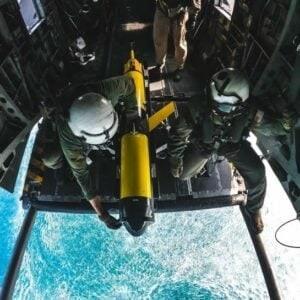 The Teledyne Slocum glider, known for its long-endurance capabilities and very low noise signature, is an essential component of the US Navy Littoral Battlespace Sensing - Glider (LBS-G) programme. Since 2009, more than 210 Slocum gliders have been delivered, making them a crucial asset for the programme. The Naval Oceanographic Office (NAVOCEANO) pilots the LBS gliders and uses the data collected to support Navy operations.
In this deployment, a Teledyne-owned Slocum glider, equipped with LBS-G Mine Countermeasures sensors (MCM), was launched from the ramp of a US Navy helicopter flying at a low altitude over shallow waters. Teledyne Marine provided the necessary piloting and technical support for the glider during the operation.
Until now, LBS gliders have been primarily launched and recovered from T-AGS 60 class multi-mission ocean survey ships. However, this successful helicopter deployment opens up new possibilities by enabling rapid and widespread glider deployment under direct tactical control of Task Force elements.
It eliminates the need for strategically tasked oceanographic ships, providing the MCM Commander with greater flexibility and efficiency. The gliders play a vital role in supplying crucial environmental data that optimises the performance of acoustic and optical MCM sensors, ushering in a new era of decision support for MCM operations.
"We are excited to be a part of another series of firsts! In this instance, the first launch from a helicopter and the first-ever successful glider deployment from an aircraft," said Dr Thomas Altshuler, senior vice president of Global Maritime Defense Strategy and Business Development at Teledyne Technologies. "Teledyne Marine takes pride in our continued innovation and support of the US Navy as it expands the operational envelope of underwater gliders."
This milestone demonstrates Teledyne Marine's commitment to pushing the boundaries of technology and this additional launch capability is anticipated to filter down to other areas of the maritime industry, such as ocean research, where gliders are used extensively.