Authorities at the Danish ports of Copenhagen, Kalundborg and Fredricia have recently granted permission for GAC EnvironHull's diver-free, underwater HullWiper solution to be used within their ports and outside of holding areas.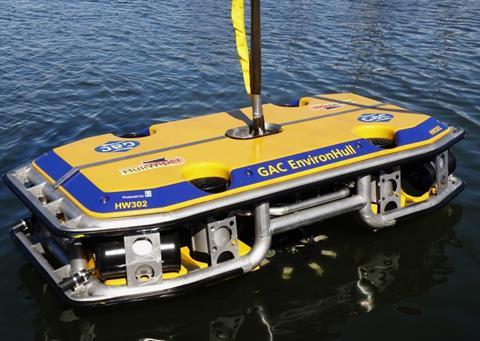 These approvals represent the latest expansion of the service into the Scandinavian region, following the approval of the Remotely Operated Vehicle (ROV) to clean hulls at Gothenburg, Sweden in 2014.
"The granting of permission to use HullWiper in these three Danish ports represents the latest in our growing list of approvals around the world," says Simon Doran, Managing Director of GAC EnvironHull.
"At a time when Scandinavian governments are focused on building upon their strong and stringent environmental credentials, these approvals are testament to the faith that the authorities place on this pioneering technology to help further this."
Denmark ranked 13th and Sweden 9th out of the 178 countries surveyed in the bi-annual Environmental Performance Index 2014. The Index is compiled jointly by the Yale Centre for Environmental Law & Policy and the Centre for International Earth Science Information Network at Columbia University, in collaboration with the World Economic Forum.
HullWiper is the response of global shipping, logistics and marine services provider GAC to growing demand for environmentally sound and cost-effective hull cleaning solutions to optimise vessel performance at a time when ever more stringent environmental restrictions are coming into force.
From an environmental perspective, a clean hull significantly enhances vessel speed and performance by reducing resistance, thereby decreasing carbon emissions and fuel consumption. However, GAC EnvironHull says that traditional hull cleaning methods using divers with brushes can present a risk to the delicate eco-system and damage expensive anti-fouling hull coatings.
GAC claims that, operationally, the ROV can clean up to 2,000 m² of hull per hour without causing any damage to anti-fouling surfaces, due to brushless technology which uses adjustable pressure water jets to remove marine fouling. As no divers are involved, cleaning can take place alongside a vessel during loading or discharging operations, and any risk to life is significantly reduced. HullWiper cleans about five times faster than conventional cleaning methods with divers, reducing cleaning time by approximately half.
The entire process is in line with the GAC Group's stringent Health, Safety, Security and Environment (HSSE) and compliance policies, as well as all local and regional environmental regulations. Residues and harmful marine growths captured during cleaning are disposed of in an environmentally-friendly manner instead of being discharged into the sea as done using traditional methods.
HullWiper was launched in late 2013 in the Middle East, where it is now available at Dubai, Fujairah and Sharjah (UAE) and Sohar in Oman. It entered the European market last year, and was launched in Singapore and Malaysia at Sea Asia 2015 in June this year.
By Jake Frith