Our purpose built pontoons which are situated right outside our exhibition halls, display over 60 vessels in a real operational environment in one of Europe's busiest harbours.
Vessels at Seawork have immediate access to Southampton Water. With no tidal constraints, approved vessel and floating plant demonstrations are permitted at all times during the exhibition opening hours.
One of the endearing features of Seawork is that many exhibitors return year after year.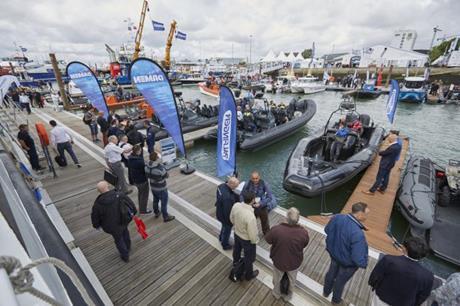 2022 vessel list coming soon.
Here is the vessel list for 2019:
| Company | Berth no | LOA | Beam |
| --- | --- | --- | --- |
| Amaroq Ltd | VA05 | 5.20 | 2.15 |
| Ambrex Ltd | VB32 | 16.00 | 5.00 |
| BAE Systems | VA28 | 8.00 | 3.00 |
| BAE Systems | VA29 | 9.50 | 3.10 |
| Barrus Ltd | VA12 | 6.00 | 3.00 |
| Barrus Ltd | VA14 | 6.00 | 3.00 |
| Barrus Ltd | VA15 | 6.00 | 3.00 |
| Barrus Ltd | VA16 | 6.00 | 3.00 |
| Berthon RIB Solutions – Gemini | VA32 |   |   |
| Berthon | VA33 | 10.70 | 3.00 |
| Berthon | VA34 |   |   |
| Cheetah Marine LLP | VA35 | 11.00 | 3.70 |
| Commercial Rib Charter | VB01 | 13.00 | 3.40 |
| Cox Powertrain | VA30 |   |   |
| Cox Powertrain | VA31 |   |   |
| Damen Shipyards | VC01 | 27.00 | 11.63 |
| Esco Power SA | VB18 |   |   |
| Farra Marine | VB23 |   |   |
| Goodchild Marine Services Ltd | VB26 | 14.83 | 4.89 |
| Goodchild Marine Services Ltd | VB27 | 22.00 | 7.50 |
| Humber Ribs | VA27 |   |   |
| Leemar Group | VA08 |   |   |
| Leemar Group | VA09 |   |   |
| Marine Specialised Technology Group | VA17 |   |   |
| Novi Marine – Ribs & Workboats – Sales & Charter | VB05 |   |   |
| Platform Boats | VA11 |   |   |
| Proteum | VA22 | 8.00 | 3.00 |
| Red Ensign Ltd | VB30 |   |   |
| Ribquest Ltd | VB12 |   |   |
| Robust Boats Ltd | VA03 | 5.00 | 2.00 |
| SEAir | VA36 | 7.60 | 3.00 |
| Stormer Marine BV | VB06 | 7.50 | 3.00 |
| Stormer Marine BV | VB07 | 4.50 | 2.50 |
| Suzuki GB Plc (Island RIBS) | VA18 | 7.50 | 3.00 |
| Suzuki GB Plc (Ultimate Boat Company) | VA19 | 7.50 | 2.80 |
| Suzuki GB Plc (Kingfisher Powercat) | VA20 | 7.50 | 2.80 |
| Suzuki GB Plc (F Rib) | VA21 | 9.00 | 3.00 |
| Suzuki GB Plc (Ribcraft) | VA23 | 7.50 | 2.80 |
| Suzuki GB Plc (Ribcraft) | VA24 | 7.50 | 2.80 |
| Suzuki GB Plc | VA25 | 7.50 | 2.80 |
| Suzuki GB Plc (JM Coulam) | VA26 | 7.50 | 2.80 |
| The Pontoon & Dock Company Ltd | VA38 |   |   |
| Tideman Boats | VA0 |   |   |
| TPA Pontoons | VA58 |   |   |
| Volvo Penta | VB22 |   |   |
| Wardle Marine Services Ltd | VA01 |   |   |
| Wessex Marine Limited | VA40 | 10.08 | 3.25 |
| Workfloat | VA56 |   |   |
| Zodiac Milpro UK | VA39 | 10.00 | 3.00 |