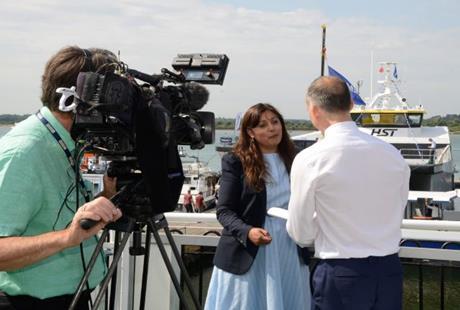 NEWS UPDATES
Don't miss the chance for your company to feature in the news distribution for Seawork and its media partner Maritime Journal - in print, online, e-News and social media. The free service for Seawork exhibitors operates all year round.
30,300 inboxes receive Seawork eNews direct
33,150 copies of the printed Seawork Show News distributed each issue
20,425 inboxes receive Maritime Journal eNews direct
6,200 Maritime Journal printed magazine distributed
22,800 average online unique visitors to Maritime Journal website every month
Just send your up to date news and images to press@seawork.com
There's no catch and no additional fee, we are here to ensure you maximise your presence, before, during and after Seawork.
EVENTS, LAUNCHES & DEMONSTRATIONS AT SEAWORK
Making an announcement, giving a press briefing or demonstrating your product ? Get your news out and the media to you. Book a news slot at Seawork via the exhibitor online manual available February 2022.
PRESS
The Seawork Press Office is in the Atlantic Hall and open throughout the exhibition.
Keep the press team up to date with your exhibition news so they can distribute it to attending journalists and via the extensive news channels. E-mail updates to press@seawork.com or pop into the press office.
SOCIAL MEDIA
Don't forget to be part of the conversation #Seawork