SEAWORK ATTRACTS OVER 7,700 VISITORS EACH YEAR COMPRISING OF HIGH CALIBRE, HIGH-SPENDING MARITIME INDUSTRY PROFESSIONALS WHO RECOGNISE THE WEALTH OF INNOVATION AND EXPERTISE THAT SEAWORK PROVIDES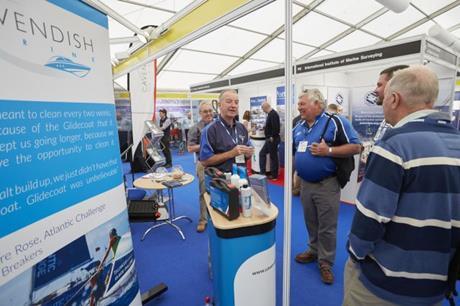 Seawork is Europe's leading commercial marine and workboat exhibition, providing businesses the opportunity to showcase their products and services to an international audience. Here are three key reasons why businesses exhibit at Seawork.
Access to international decision makers
Seawork draws crowds from around the globe for the three-day exhibition and conference. The quality and variety of the exhibition and conference attracts high calibre decision markers within companies in the commercial marine and workboat industry. Exhibiting at Seawork gives businesses the opportunity to develop international relationships in one place.
Variety of showcase options and immersive experience
Seawork offers a fantastic range of exhibitor options for businesses to showcase their products and services. This includes pontoon space, open and shell booth space, quayside space, dive tank spaces and sponsorship opportunities. This provides businesses the facilities to demonstrate and showcase products and vessels, allowing visitors to enjoy a completely interactive and immersive experience, resulting in a higher level of communication with your target audience.
Raising your business profile
The event hosts high quality exhibitors, speakers and conference format that focuses on innovation, trends and industry insight, offering an ideal platform for building business connections and signing deals at the event. Seawork gains the support from industry associations, including Society of Maritime Industries (SMI), UK & International Harbour Masters Associations (UKHMA & IHMA),International Institute of Marine Surveying (IIMS), Central Dredging Association (CEDA), the Workboat Association (WA), Association of Diving Contractors (ADC) and British Marine.
MAXIMISE ON PROMOTION AND BOOK NOW
Limited opportunities remain at Seawork, please speak to the Seawork Sales Team to discuss availability and best way to showcase and promote your business on +44 1329 825 335 or email info@seawork.com.
Over 91% of Seawork International visitors make or influence purchasing decisions.
See below displays the profile of visitors whom have previously attended the Seawork International Exhibition:
Seawork visitors by job function:
Company Director, Owner, Proprietor or CEO – 40.73%
Engineering, Technical Manager or Superintendant – 23.17%
General Purchasing / Sales – 20.46%
Marine Operations Manager, Harbourmaster or Pilot – 10.67%
Press – 1.47%
Other – 3.5%
Seawork visitors by company activity:
General Marine Equipment & Services Supplier - 25.6%
Vessel Builders / Repairers - 9.3%
Marine Civil Engineering, Hydrographic Surveyor, Consultant - 6.8%
Military Police, Border / Fisheries Protection - 6.7%
Renewable Energy / Offshore Wind - 6.6%
Naval Architect, Vessel Surveyor, Consultant - 5.5%
Vessel Owner, Operator, Manager - 4.6%
Propulsion & Engine Systems – Build, Supply, Repair - 5.2%
Safety & Training - 5.4%
Port, Harbour Authority, Wharf / Terminal Operator - 4.9%
Finance, Insurance, P&I, Legal - 4.2%
Diving - 3%
Maritime Organisation, Government Agency, Classification Agency - 4.9%
Shipbroker - 2.2%
Other (inc. PR, Marketing) - 5.1%