The naming ceremony has been held in London for 'Svitzer Kent', the second of two similar Damen ASD 3212 tugs Svitzer Towage now has in service on the river Thames and at Felixstowe.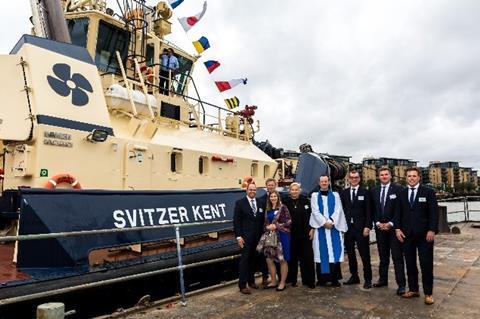 Svitzer Kent has been in operation on the Thames and Medway for several months now since along with Svitzer Deben, they were delivered as part of a deck cargo of vessels from Damen's Song Cam Shipyard in Vietnam.
The naming ceremony was held on the Thames river cruiser Silver Sturgeon moored at Greenwich, a location steeped in maritime history and on the meridian of the same name. In attendance was Henriette Thygesen, new CEO of Svitzer along with senior management from Svitzer Europe including managing director Marc Niederer, Phil Dulson managing director for Svitzer in the UK North and South East and chief operational officer Europe Deniz Kirdar True.
Also present were customers, local stakeholders and Svitzer's London office staff and crews with the traditional blessing and naming of Svitzer Kent carried out by its godmother Mrs Melissa Rye.
The vessel is working alongside its near-sister Svitzer London and other vessels of the company's fleet at the terminals and wharves on the Thames and Medway including assisting ultra-large container vessels at London Gateway Container Terminal and large LNG carriers calling at the Isle of Grain LNG facility on the river Medway.
High specification tugs are increasingly seen as a pre-requisite for such operations and Svitzer Kent meets the standard with 80 tonnes bollard pull via two Caterpillar 3516C HD+ TA/D main engines developing 5,050bkW (6,772bhp) and powering two Rolls-Royce US255 PC CP azimuth thrusters.
A 200t brake load double-drum render-recover winch is fitted forward rendering 100t at 100m/min and recovering 60t at 20m/min. A 200t single-drum towing winch and 100tSWL Mampaey towing hook are fitted on the aft deck and accommodation is provided for ten persons in six cabins.
By Peter Barker